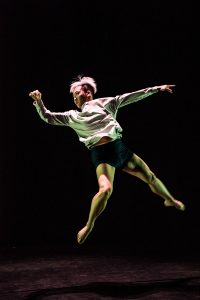 Due to COVID-19, UMBC Dance Department will not be holding an in-person Visit Day.  Please check out our MEDIA GALLERY to see us in action.
UMBC offers a B.A. in Dance and a Minor in Dance. Many of our students have a second major or minor. Some are enrolled in a UMBC pre-professional or pre-med program, or are pursuing certification in dance education, or are enrolled in a certificate program in another discipline.
UMBC is accredited by the National Association of Schools of Dance.  Our graduates go on to performing careers that include professional dance companies, Broadway and Off-Broadway shows, national touring companies and Disney; teaching careers in private dance studios, public education, colleges and universities; related professions including physical therapy, arts management, arts advocacy, and much more.
If you have questions, please contact dancedepartment@umbc.edu