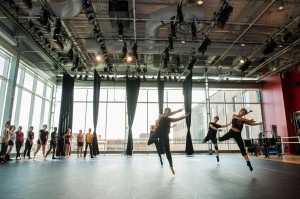 Class Placement and Scholarship Auditions for incoming Freshmen and Transfer Dance Majors planning to enter UMBC in Fall 2022 will be through recorded video audition on the Acceptd website. Prospective students must learn, record and upload two required combinations and a solo in any genre of dance (not longer than 2 minutes) to getacceptd.com (link below).
You must apply for admission to UMBC prior to the audition.
Detailed audition information will be available at this Acceptd link starting November 12, 2021.
THE DEADLINE FOR UPLOADING AUDITION MATERIALS IS JANUARY 23, 2022.
The audition is for scholarships and class placement levels. All applicants will automatically be considered for a Fine Arts Dance Award (open to incoming freshmen and transfer students). Students interested in being considered for the prestigious Linehan Artist Scholars Program, open to incoming freshmen only, must also apply to the Linehan Artist Scholars Program.
To become a dance major at UMBC, entering students declare their intention to major in Dance and must pass a "gateway" course (Intermediate Modern Dance Technique II) with a B or better. Students with extensive backgrounds in dance frequently complete this course during their first year at UMBC. Students who do not have a strong background in dance must complete preparatory courses as prerequisites to the "gateway" course.
For further questions please contact the dance department.