Fall 2019 / Spring 2020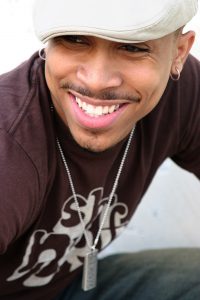 Brandon Russell
bprussel@umbc.edu
Brandon Russell is a native of Fort Worth, TX. He began his dance training at Dian West Dance Studio, Texas Ballet Theatre School and Debbie Allen Dance Academy. Brandon was named NYCDA's regional outstanding senior male and won NDA's best senior male dancer national title. Brandon continued his academic and dance training at Southern Methodist University studying a variety of dance techniques and composition, where his choreographic aspirations were nurtured by Larry White and Nathan Montoya. Mr. Russell was awarded numerous scholarships and trained all over the country, including such prestigious institutions as Edge Performing Arts, The Ailey School, Dance Theatre of Harlem School, Joffery Ballet School, Boston Ballet, Orlando Ballet, Kirov Ballet Academy, Houston Ballet School and many more.
Upon leaving SMU Mr. Russell moved to New York, to pursue his career in dance. He has performed with Dance Theatre of Harlem Ensemble(DTH) under the directorship of Arthur Mitchell, Pascal Rioult Dance Theatre, Lydia Johnson Dance, Errol Grimes Dance Group, Nanette Bearden Contemporary Ballet, Balance Dance Theater, Texas Ballet Theater, Subtle Changes Inc and Bad Boys of Dance.
Mr. Russell has taught ballet, modern, jazz, contemporary, hip-hop, gymnastics and choreographed for various companies, schools, colleges, studios, fine arts programs, summer intensives (including DTH, Kirov Academy of DC, Paul Taylor Intensive, Showbiz Xtreme …) and served as proud founding choreographer, ballet master and Director of Operations for Bad Boys of Dance. Brandon is an instructor of classical ballet and contemporary dance at The University of Maryland Baltimore County
Fall 2018 / Spring 2019

Shaness Kemp
Shaness Kemp is a native of Nassau, Bahamas and holds both a Bachelor of Fine Arts degree and a Master's of Fine Arts degree from Temple University. She is a certified Umfundalai teacher and has taught at various institutions, festivals and intensives. She has trained with several notable artists and professional dance companies, including Deeply Rooted Dance Theater, Kariamu &Company: Traditions, Kun-Yang Lin/Dancers, Eleone Dance Theatre, Philadanco! The Philadelphia Dance Company, Urban Bush Women, Complexions Contemporary Ballet, Rennie Harris Puremovement, The Katherine Dunham Seminar and The American Dance Festival. She was the 2015-2016 recipient of the Ellen Forman Memorial Award and her work has been presented nationally and internationally. Shaness was an original member of the Clothesline Muse Theatre production and performed at its premiere at the Painted Bride in Philadelphia in 2014. She is a freelance dancer, choreographer and dance educator and is excited about working with the students and faculty of UMBC.
Fall 2017
Lynne Price
Lynne Price holds an MFA from the University of Maryland College Park and a BA in Dance and Pre-physical therapy from Goucher College. As an interdisciplinary artist, Lynne's practices include dance, poetry, improvisation, performance, choreography, soma tics, and research in many fields including gender, race, and depth psychology and archetypes. Lynne has taught at the University of Maryland and St. Mary's College of Maryland, as well as master classes at Towson University, Goucher College and UMBC. Lynne is deeply tied to dance in Baltimore, teaching movement research classes to movers of all levels and having founded a volunteer organization, Baltimore Independent Dance Artists (BIDA), in 2016 with the mission of elevating and bringing together the dance community in Baltimore. Lynne often collaborates with choreographers and dancers in Baltimore and DC and is a 2017 Dance OMI Fellow, and is, in partnership with Kristen Yeung, the 2017 Alumni Dance Comminssioning Project recipient at the University of Maryland, College Park.
Fall 2016

Robin Neveu Brown
Robin Neveu Brown grew up dancing in Southeastern Virginia where she attended the Governor's School for the Arts.  She holds a BFA in Dance from the University of Florida and an MFA in Dance from the University of Maryland College Park, where she focused on performance, research-based choreography, dance-writing, collaborative process, and teaching artistry in a variety of settings. She is certified in Laban Movement Analysis and Bartenieff Fundamentals, as well as Classical Pilates. Robin's love of working with people and ideas in the sensory and physical world of dance and art feeds her passion as a performer, dance maker, writer, and teaching artist.  She has performed, taught and created dance in New York, Washington, DC, Virginia, Maryland, Florida, and Utah as well as Russia and Albania. She has performed with choreographers Deganit Shemy, Neta Pulvermacher, Tzveta Kassabova, David Dorfman and Tara Burns, and currently dances with PEARSONWIDRIG DANCETHEATER. Robin will be teaching Advanced Contemporary Technique, Repertory, Improvisation and Dance Workshop.
Past Visiting Artists
Fall 2015 Erica Rebollar
Fall 2014 Jessie Laurita-Spanglet
Fall 2013 Florian Rouiller
Fall 2012 Helanius Wilkins
Fall 2011 Hallie Dalsimer
Fall 2010 Tzveta Kassabova
Spring 2009 Adrienne Clancy
Fall 2009 Susan Rethorst