Carol Hess


Professor, Chair
Carol was born in New York City where she trained as a dancer and received her BA from Barnard College. She has performed with Hannah Kahn and Dancers, The Rondo Dance Theater, DANCES/Janet Soares, and as a tap soloist she appeared on television and in concerts in the United States and York, she received a MA from Columbia University, where she studied dance composition from Robert Ellis Dunn. Dunn's approach to developing and manipulating movement has had a profound effect on her work as a choreographer. Her choreography has been presented in New York at the Cubiculo, Dance Theater Workshop, the Grand Finale, and Dance Workshop in Bonn, and the Flora Theater in Amsterdam. She has been Artistic Director of Oregon Dance Theater and Phoenix Repertory Dance Company. Changing Room, a work for video created in collaboration with video artist Vin Grabill and composer Neal Woodson, has been featured on the Innovators Series, Artscape 1995, and on Maryland Public Television's Independent Eye, an associate professor of dance, and chair of the dance department, she has taught at UMBC since 1982. Prof. Hess teaches Intermediate Contemporary (Modern) Technique, Dance and Technology, Dance Composition and Teaching Methods for Dance.
Elizabeth Walton


Associate Professor, Emerita
Elizabeth was a member of the dance department for over forty years, and served as chair for twenty years. During the sixties she was a leading dancer with the Paul Taylor Dance Company of New York, performing with them on stage and television in the United States, Europe and South America. In 1981 she danced her original role in Taylor's Aureole with Rudolph Nureyev and Friends. Ms Walton has choreographed fifteen dances including some for theatrical productions of A Christmas Carol and The Women at Center Stage in Baltimore. In 1984 Ms Walton's reconstruction of Rose was performed by Phoenix Repertory Dance Company at Lincoln Center for the Performing Arts and the Judson Church in New York City. She has taught at the American Dance Festival, Jacob's Pillow Dance Festival, International Werkstatten in Bonn and Münster, Germany, FNB Vita Dance in Johannesburg, South Africa, London Contemporary Dance School, University of London, Goldsmiths College as well as at the Paul Taylor School in New York. In 1995 she was invited to Guangzhou, Peoples Republic of China to set Taylor's Aureole on the first modern dance company in mainland China. She has also set this work on companies at Ohio State University and Goucher College. Prof. Walton has taught Beginning, Intermediate and Advanced Contemporary (Modern) Technique, Dance History, Dance Workshop, and Senior Projects.
Doug Hamby


Associate Professor
Doug has a BS in Biological Sciences Michigan State University and an MFA in Dance Temple University. He lives, dances and choreographs in the Washington/Baltimore area. He is the artistic director of Doug Hamby Dance, a professional dance company in residence at UMBC. The repertory of the company features works that spring from collaborations with dancers, composers, visual artists, engineers and other creative people. He received a 1999 Individual Artist Award in Choreography from the Maryland Arts Council and a 1999 Choreographic Fellowship in Dance and Media from the Arts Council of Montgomery County, as well as choreography awards from the National Endowment for the Arts, the New York State Arts Council and the Baltimore Mayor's Advisory Committee on Arts and Culture. Featured performances of his company have included the 1998 New York Fringe Festival, the 1997 Philadelphia Fringe Festival, and the 1995 International Fringe Festivals in Edinburgh, Scotland and Vancouver, British Columbia, as well as Riverside Dance Festival, Lincoln Center Out-of-Doors, and Celebrate Brooklyn, New York City, and three seasons at Dance Place, Washington, D.C. Earlier, he directed the Douglas Hamby Dance Company in New York City, and performed with Martha Graham, May O'Donnell, Rachael Lambert, Elizabeth Keen, Pearl Lang, Norman Walker, UMBC's Phoenix Dance Company, Hamby and Lacy, and the Chicago Moving Company. He is currently a dance panelist for the Maryland State Arts Council. Mr. Hamby has appeared on national television as a giant slice of American cheese. Prof. Hamby teaches all levels of Contemporary (Modern) Dance Technique, Improvisation, Dance Composition, Dance Workshop, and Senior Projects.
Dr. Adanna Kai Jones
Postdoctoral Fellow
Dr. Adanna Kai Jones received her Ph.D. in Critical Dance Studies at the University of Califormia, Riverside, and her BFA in Dance from Mason Gross School of the Arts – Rutgers University. She has performed in professional dance companies based in New York City, including the Julia Ritter Performance Group and Souloworks with Andrea E. Woods. In general, her research remains focused on Caribbean dance and identity politics within the Diaspora.  Currently, her research reject uses multi-sited, transnational ethnography to track the ways in which U.S.-based, Caribbean choreographers play an integral role in the support and preservation of contemporary Caribbean practices and beliefs.  She has choreographed dance-theater pieces that were not only based on her research, but were also used as tools for generating more research questions.  In July 2015, she choreographed Wine & Tales in Port of Spain, Trinidad, presented by New Waves! 2015 and the Dancing While Black Performance Lab. In May 2016, she performed Rum & Coke in New York City at Field Studies 2016.  Both performances were rooted in her ethnographic fieldwork on the rolling hip dance known as wining' and Caribbean Carnivals within the U.S.  In her position as Postdoctoral Fellow, she will be teaching an introductory course on various Caribbean dances and cultures in Spring 2018.
Sandra Lacy


Instructor
Sandra is an Associate of the Royal Academy of Dancing in London. She has performed with the Maryland Ballet, Impetus Dance Company, Path Dance Company, Phoenix Repertory Dance Company, James Hansen's Assemblage Dance Company and Bill T. Jones/Arnie Zane and Company. Currently Ms. Lacyis Co-Artistic Director of Lacy & Shade, Solo Duet Dance Works. Recent performances of Lacy & Shade include the Maryland Showcase for Choreographers, the Yes Virginia Dance Festival in Richmond, the Out of the Loop Theater Festival in Addison, Texas, The Toronto Fringe Festival and the Jacob's Pillow Dance Festival. Ms. Lacy is a recipient of six Maryland State Arts Council Individual Artist Awards in solo dance performance, including a 2006 award. She is a member of the dance faculty at UMBC and the Baltimore School for the Arts. Prof. Lacy teaches all levels of Ballet and Contemporary (Modern) Technique, Beyond Technique, Improvisation, Dance Workshop, and mentors advanced student choreography projects.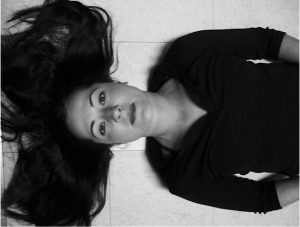 Erica Rebollar


Visiting Lecturer
Erica was born in Madrid, began studies at the Washington School of Ballet, and completed her MFA in choreography at UCLA. Erica danced with various companies, touring nationally and internationally.  She produced her first show in Seattle in 1999, and after receiving ACDA's National Choreographer Award with Dance Magazine, BYU commissioned the choreography. Erica was a three time Lester Horton Award nominee for performance and choreography in Los Angeles, where she produced several evenings of a work. Upon moving back to DC, Erica performed her choreography at Velocity Dance Festival/Harman Hall, Joy of Motion's Dance Project, and in collaboration with theatre company Force/Collision at Navy Yards Park. She received Kennedy Center's Local Dance Commissioning Project grant, with evening-length performances on the Millennium Stage and Dance Place, with work at Roundhouse Theatre and Theatre Project/Baltimore. Erica Rebollar/Rebollar Dance was made a "Top Pick" of Washington City Paper's Fall Arts Guide, highlighted in "Most Memorable Dance Performances of 2011,"and nominated for a Metro DC Dance Award in "Outstanding New Work." Erica teaches all levels of Contemporary Technique, Dance History, Composition, Dance and the Contemporary Arts, and Senior Projects.