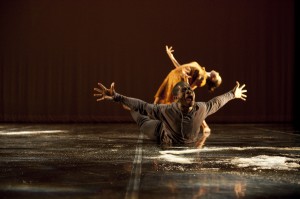 There are several scholarships and award opportunities for incoming and current UMBC students. Prospective incoming students must attend a scholarship audition.
Fine Arts Awards are offered to incoming freshmen and transfer students who show exceptional talent and accomplishment in dance. Prospective students audition each February for the next academic year. Incoming freshmen may be awarded up to $2,500 per year for four years, and incoming transfer students may be awarded up to $2,500 per year for two years.
Awards for Summer Study:
Past awardees of summer study support have participated in the following competetive programs:
Alvin Ailey Summer Intensive, American Dance Festival, Bates Dance Festival, Broadway Dance Center Professional Semester, Debbie Reynolds Dance Studio, Hollywood Biz, Hubbard Street Dance Chicago Summer Intensive, Jacob's Pillow Contemporary Summer Intensive, José Limón Summer Intensive, Maryland Youth Ballet, Steps NYC Summer Intensive, Paul Taylor Summer Intensive, Tokyo Academy, Louisiana, White Mountain Summer Dance Festival, and others.
UMBC offers these opportunities for dance majors to receive financial support for summer study:
Summer Dance Research and Study Award – a competitive award for Sophomore and Junior dance majors in good standing, who have demonstrated excellence in performance and/or choreography, and who have strong potential for success as a professional dance artist. Candidates may apply to the Department of Dance for summer funding grants of up to $2,500 to study at an established dance workshop or to design a summer study program.
The Linehan Summer Research and Study Award – available to one sophomore or junior dance major who is also a Linehan Artist Scholar.
Undergraduate Research Award – a competitive, university-wide award offered by the Provost. Applicants must find a faculty mentor and develop a proposal. An interdisciplinary panel of arts faculty determines awards. Dance students have most often used the $1,500 award for study in New York City, participation in a summer dance festival (American Dance Festival, Bates Dance Festival, etc.) or for study with a particular teacher or dance company. The award is not restricted to the study of dance technique. In 2008 a Dance/English major traveled to England to create a dance video work, filmed in locations associated with author Jane Austin while another student traveled to the Ivory Coast to study African music and dance.