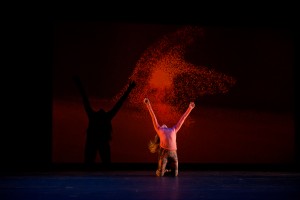 Baltimore Dance Project
…is a professional modern dance company dedicated to presenting the creative work of Doug Hamby and Carol Hess, "two of the most exciting choreographers in Maryland." Formed in 1982 under the name Phoenix Dance Company, the company is known for its edgy collaborations with composers, directors, sound artists and visual artists, and for infusing visual media and technology into riveting dance performance. The company features outstanding professional dancers and has been honored with numerous grants and awards. Hamby, Hess, and company veteran Sandra Lacy have received a total of twelve individual artist awards from the Maryland State Arts Council, and their work has appeared in theaters and film festivals across the United States.
The company performs its annual UMBC concert in February.  Find out more about us here.