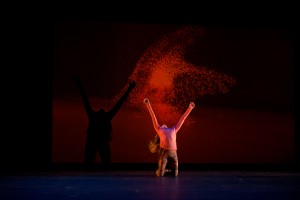 Baltimore Dance Project
…infuses visual media, sound, light and technology into riveting dance performance. Known for its edgy artistic collaborations between choreographers, composers, sound artists, visual artists, engineers, and technologists, the company presents the creative work of creative directors Carol Hess, Doug Hamby, Ann Sofie Clemmensen, and Shaness Kemp, with Sandra Lacy and guest artists. Formed in 1982 under the name Phoenix Dance Company, BDP features outstanding performers from the Baltimore/Washington area. The company has been honored with numerous grants and awards, and their work has appeared on the streets of Baltimore, in theatres, and on the screen, Hamby, across the United States, and internationally.
The company performs its annual UMBC concert in February.  Find out more about us here.